Canada's Premier At-Home Water Testing & Reporting Solution
HOW WE GRADE YOUR WATER SUPPLY SOURCE
The Canadian Water Quality Index (CWQI) is an effective method to rate the water quality and determine its suitability for drinking purposes. CWQI measures a wide variety of parameters of water quality and then cumulatively translate them into one score.
The CWQI method requires a group of parameters that have drinking water objectives that have been set either by the Canadian government or a province to ensure that the water intended for human consumption.
Health- Related Standards: shall not contain disease-causing organisms or unsafe concentrations of toxic chemicals
Aesthetic Objectives: should be aesthetically acceptable and palatable
Operational Guidelines: should not contain undesirable concentrations of parameters that, if not controlled, may negatively affect the efficient and effective treatment, disinfection, and distribution of water
| RATING | CWQI VALUES |
| --- | --- |
| Excellent | 94-100 |
| Good | 80-94 |
| Fair | 60-79 |
| Marginal | 45-59 |
| Poor | 0-44 |
The CWQI calculates three factors based on these objectives:
the number of parameters that fail their objective,
the proportion of samples that fail their objectives,
the relative magnitude of any failures.
These factors are combined to give an overall rating.
HOW TO READ YOUR REPORT CARD
A summary of the results is presented in a donut-like chart.
The colouring system is represented by:
Green — All parameters that are below the objectives/standards
Red — A parameter that has a concentration above the local provincial or the Canadian objective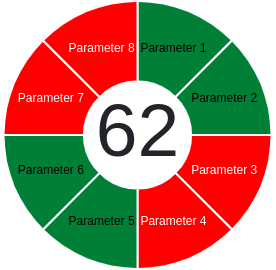 The sample example provided has a CWQI of 62 (out of 100). The quality is fair.
A detailed summary of the parameters tested, why each parameter is important, and treatment options are provided in Appendix A.